Arisa Victor, Author 'High Magic: How to Turn Your Lead into Gold'
Arisa is a marvelous and energetic speaker who has been active in the New Age and metaphysical communities since the 1960s. She is the author of two other books, The Spoken Cabala (previously titled Thursday Night Tarot) based on the teachings of Jason C. Lotterhand, and High School Astrology, a book designed to help teens learn the mystic arts in a loving and practical way.
You can contact Arisa @ grannyrainbow@msn.com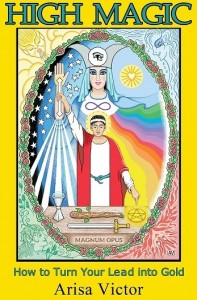 High Magic: How To Turn Your Lead Into Gold by Arisa Victor
Fall 2012 Price: $18.95
Dedicated to Isis, who is the author's inspiration and guide.
High Magic is about using metaphysical science to progress on the Path of Light towards ever-greater Self-realization. The Ageless Wisdom of the West is distilled into clear, concise language. Illustrations and How-To suggestions help awaken one's inner truth.
The Path is open to all. Anyone can use this book to discover the truth of their Selfhood. If you put your heart into it and aim for the highest good, progress is guaranteed. One fine day you will know you have succeeded in the quest to be your Self, with nothing added and nothing taken away.
Working with High Magic will turn the lead of fear and ignorance into the gold of love and enlightenment. This book can be helpful to anyone at any stage in their efforts know and express their unique individuality. It makes a wonderful gift for friends and family. This is alchemy for everybody!