Isis House Publishing is pleased to announce that Linda Iles, author of "Bast, Cat Goddess of Ancient Egypt" will be speaking and signing her book at the Long Beach WomanSpirit Faire Saturday, June 7th 2014.
For more information, visit the WomanSpirit Fair Facebook page at https://www.facebook.com/pages/Long-Beach-WomanSpirit/192343346919
The event takes place at the Unitarian Universalist Church at 5450 Atherton in Long Beach. $5 Donation requested for Faire entry. Linda's presentation time is still being determined but she will be there, along with Isis House Publishing's own deTraci Regula, all day to sign books and chat with readers. There will be dozens of vendors and food available on site, with musical presentations from Ruth Barrett and story telling by Kat Robb.

Check out Isis-House Publishing Author Book Signings January & February 2013 –
BOOK SIGNING With ARISA VICTOR, AUTHOR OF "HIGH MAGIC"
January 12th, 2013 – Sacred Well Bookstore 536 Grand Avenue Oakland, CA 94610
Sacred Well 536 Grand Avenue Oakland, CA 94610
73-year-old author and artist Arisa Victor wants you to get high – but not the way that you may think. The author, who is celebrating the release of her first book through Isis-House Publishing, is sharing the secrets of the ages in an easily-accessible format, drawing on her lifetime of esoteric studies, classes, and teachings. Victor, who has been a Bay Area resident for the past 45 years, is celebrating her book's release January 12th, 2013, at the Sacred Well Bookstore in Oakland. The energetic and enchanting Victor will be signing her book and speaking about personal transformation and the magic of everyday living.
As Victor says, "High Magic is for everybody." There's nothing spooky about it – it's the time-honored process of personal development and expanding one's personal intuition and connection with the Divine, presented in a simple and down-to-earth fashion. The beautifully illustrated book makes even advanced concepts easy to understand with practical how-to instructions for bringing more joy, understanding, and compassion into our lives.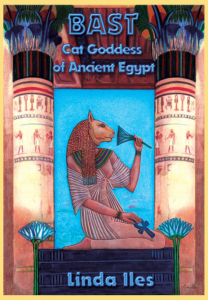 January, 2013 –
Voices of the Sacred Feminine – Thursday, January 10th at 6pm
Internet Radio Show hosted by Karen Tate
Call in Number: (718) 766-4662
Website: http://www.blogtalkradio.com/VoicesoftheSacredFeminine
Contact: Karen Tate
E-mail: ancientcultures@ca.rr.com
February, 2013
Interview on Creatrix Media Live! – Sunday, February 24th at 11:00pm
A round table discussion between co-hosts, guests and listeners.
Call in Number: (347) 237-4776
Website: http://www.blogtalkradio.com/creatrix-media-live
Book Signing in Long Beach, California
Lyceum of the Nubian Moon, February 24, 1:30 pm
Adoration of Bast Ritual to be held later that afternoon.
Contact: Rev. Anniitra Ravenmoon, Priestess Hierophant
E-mail: sacred raven@msn.com
When a stray cat named Duncan adopted artist Linda Iles while she was working at San Diego's Spanish Village Art Center, she didn't realize he would also bring her a book contract. But thirteen years and many adventures later, that's exactly what happened, and Linda Iles is signing her book "Bast, Cat Goddess of Ancient Egypt".
The book is based on extensive research Linda did after becoming enchanted with Duncan, her first cat, who came into her life at Spanish Village. The scrawny, near-feral black cat won her heart as he would go through the Spanish Village art studios. When he disappeared, she had an intuition that something was wrong and searched for him and found him, badly injured, beneath nearby bushes. She rushed him to a vet, they tamed each other, and Duncan has been part of Linda's life for the past thirteen years.
In addition to writing and illustrating "Bast,Cat Goddess of Ancient Egypt, Linda also created the cover art for the book.
Linda's book "Bast, Cat Goddess of Ancient Egypt" is available on Amazon, at bookstores, and from the publishers, Isis-House Publishing.
http://isishousepub.com